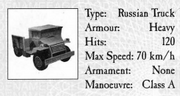 The Russian Truck, usually just called a Truck, is a vehicle in Codename Eagle.
Singleplayer
Edit
The Truck appears multiple times throughout the singleplayer campaign, most notably in Village Idiot and Demolition Man.
Multiplayer
Edit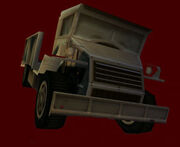 The Truck appears in most multiplayer maps. The Truck is rarely used due to the other vehicles being better choices. For example the Russian Armored Car has 120 hits just like the Truck, but also has a mounted gun, and a higher maximum speed.