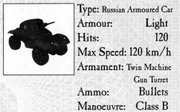 The Russian Armoured Car is a vehicle in Codename Eagle. It is the Russian equivalent to the Allied Armoured Car.
Singleplayer
Edit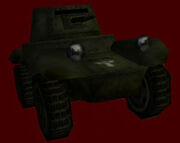 The Russian Armoured Car is encountered in multiple missions, both used by the Russians against Red and ones Red can steal and use to his advantage.
Multiplayer
Edit
The Armoured Cars are often used due to the their high speed, and ability to do damage while driving.