The Machine Gun is a weapon in Codename Eagle.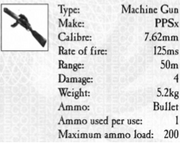 Singleplayer
Edit
It is used rarely by Russian Soldiers and often by Sailors.
Multiplayer
Edit
The Machine Gun is provided at the Bases in every map.
Information
Edit
The Machine Gun uses the Bullet ammo type. It is the fastest firing player weapon in the game. It uses one bullet per every shot fired.