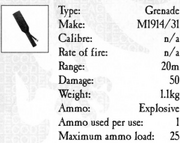 The Grenade is both weapon and Ammo pickup in Codename Eagle.
Single Player
Edit
Grenades can be found inside crates and as pickups across the map. Russian soldiers have grenades - and will switch from their current weapon to throw it at Red.
Multiplayer
Edit
Grenades can be found around both bases.
Information
Edit
Grenades use their own ammo type - Grenades. When firing a Grenade - you will pull the pin then throw it. Grenades will only explode after their fuse runs out, and cause a destructive 50 damage explosion. It costs 1 Grenade ammo to throw a Grenade, and you can hold up to a maximum of 25.