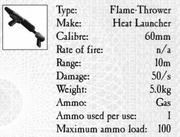 The Flame-Thrower is a weapon in Codename Eagle.
Singleplayer
Edit
Red starts off with the Flame-Thrower in the final mission of the game, a Daring Rescue. Its very useful for disabling guards.
Multiplayer
Edit
There is a Flame-Thrower in both bases in No Mans Land. You can set players on fire, and inside vehicles.
Information
Edit
The Flame-Thrower uses gas type ammo. In first person, it appears that the flames are going straight forward, but in world view the flames have a zig-zagged pattern.