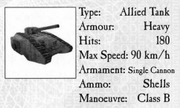 The Allied Tank is a vehicle in Codename Eagle. It is the Allied equivalent to the Russian Tank.
Multiplayer
Edit
The Allied Tanks only spawn at the Blue Base. 
No Mans Land has 3 Allied Tanks at Blue Base.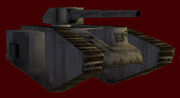 The Allied Tank has a specific ammo pickup exploit, giving it an advantage over its Russian counterpart.